Division Two of the FIDE Online Olympiad began today. Fifteen qualified countries from last weekend's Division Three were joined by the thirty-five D2 seeds, setting up five groups – pools – with ten teams each.

Most of the participating countries at this stage have world-class grand masters leading their teams: Maxim Rodshtein (2684), Markus Ragger (2680), Tamir Nabaty (2658) and Ilia Smirin (2611) are the top-board +2600 players.

The first three teams of each group – fifteen in total - will advance to the Top Division next week and play for the Olympic title.

Division 2 - Pool A

Most of the countries seeded into Pool A are from Asia: basically the Eastern time zone, with Ireland in the mix. This group seems to be fairly equal, at least between the five or six main favourites. Nearly all of them have one or two grand masters leading the way and some of the teams are completely filled up with titled players.

It's still very early to get a clear idea of which teams will advance to the Top Division, but already Indonesia and Philippines have started very strong, with three wins each, while Bangladesh and Australia are just behind with two wins and one defeat (Bangladesh lost 4-2 to Australia and Australia 4-2 to Philippines).

While Indonesia have only fielded their six main players - with excellent results - other teams have been mixing it up a little bit more: for example, Australia have actually used eleven of their twelve players in the first three rounds!

Finally, the Shenzhen China team (Olympiad partners) is tremendously strong but has underperformed somewhat in the first three rounds. However, even though they lost an important match against Indonesia by 3.5-2.5, it seems very likely that they will be one of the main contenders for the three qualifying spots.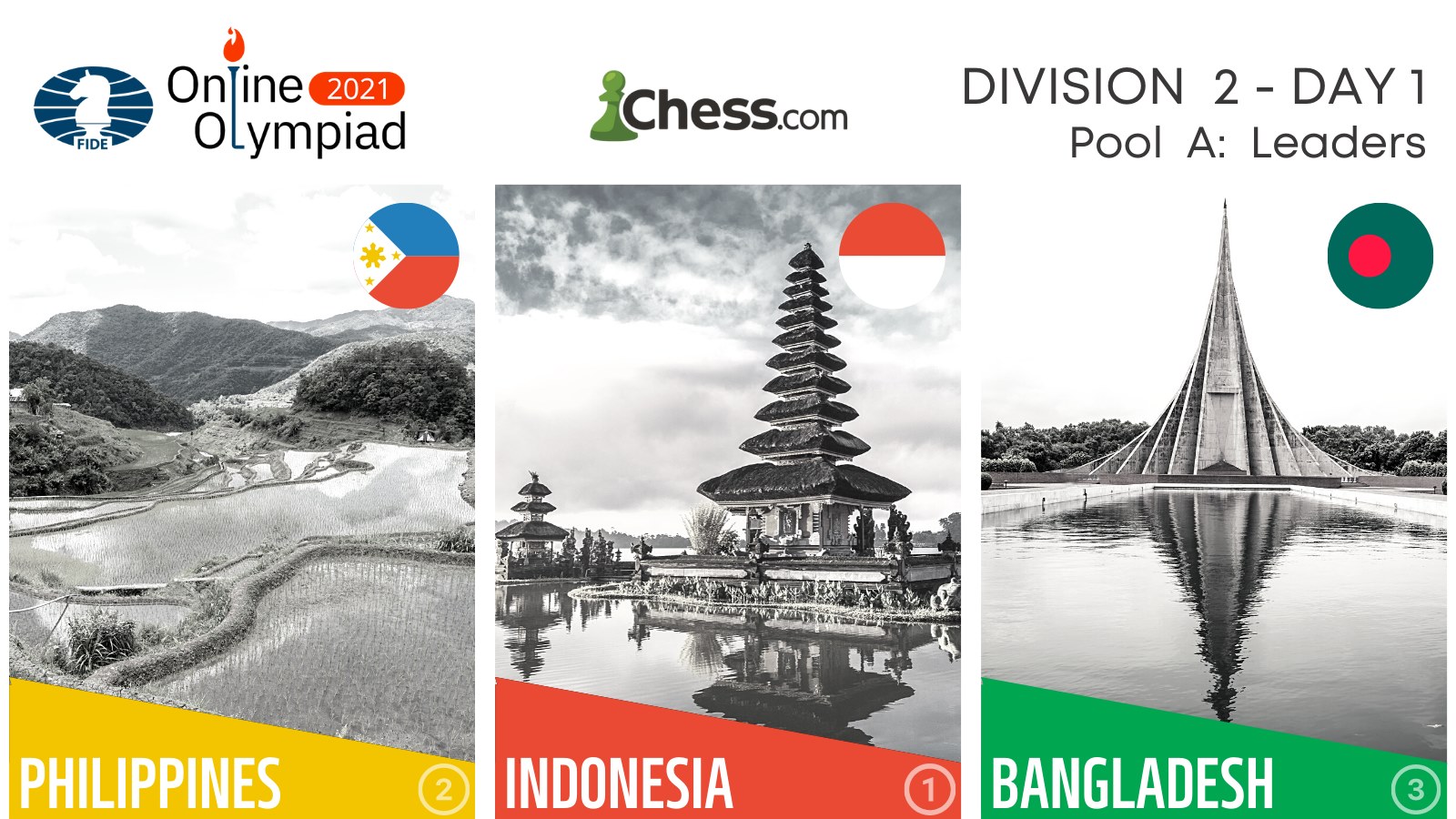 Division 2 - Pool B

A rather strong pool, with many European teams. Latvia, headed by GM Nikita Meshkovs, have won their first three matches (against Estonia, Iraq and Switzerland) and are leading the pool undefeated with 6/6.

Division 3 qualifier Malaysia are also on a roll: two wins and a draw (against Austria) leaves them in undisputed second position with 5/6. In third place there is a tie between three strong teams, all of which have won two games and lost one: Italy, Estonia and Uzbekistan.

On paper, the best squad, captained by GM Loek van Wely, is Italy, with a medium rating of 2343. However, they have used eleven of their twelve players on Day 1 (only board one GM Luca Moroni has played all three games).

Austria (with GM Markus Ragger on board one) and Moldova (headed by GM Victor Bologan and GM Viorel Iordachescu) have as yet underperformed but with six rounds left anything can happen.

The following diagram is from the game between board one in Moldova vs Italy. White has just played 41.Rf7 and it's Black to play.



Moroni captured the pawn with 41…Rxd4, a big mistake, as after 42.e7! Kg8 43.Raf6! Black loses to 44.Rf8 and had to resign. Instead of the text move, 41…Kg8! Would have kept the game going.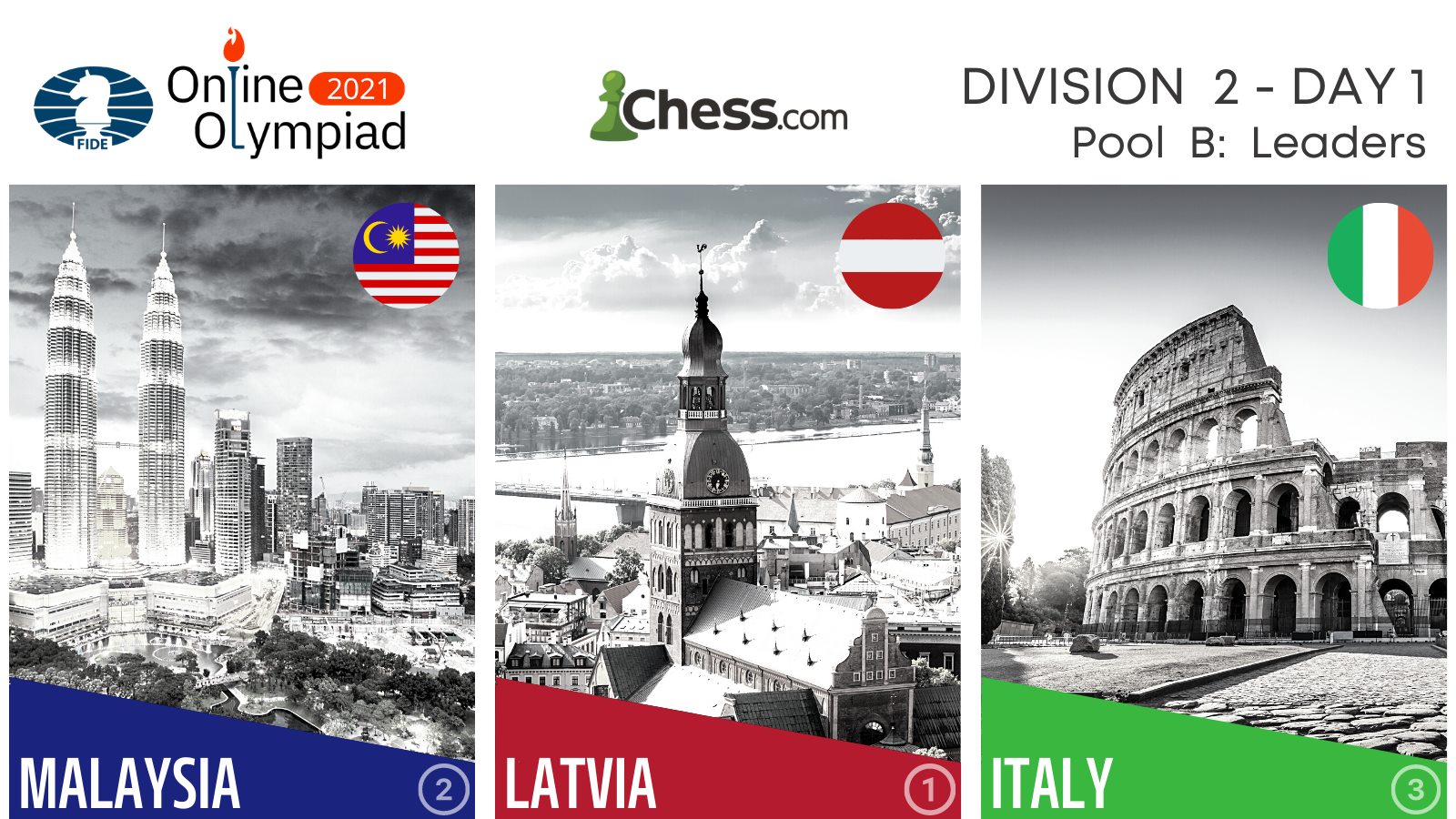 Division 2 - Pool C

Another tough group with many strong European countries. However, after the first three rounds, the leader with 6/6 is Israel, a very tough team with four seasoned GM's and several other titled players: definitely one of the strongest teams of the division. For the moment, they have fielded all of their twelve players.

Also on 6/6 is Belarus, headed by GM's Kirill Stupak and Alexei Fedorov. Three wins by 4.5-1.5 against Sweden, Norway and Sri Lanka have placed them in an excellent position to take one of the three qualifying spots.

Two teams share third-fourth place in the standings: Montenegro and Scotland. They have both won two matches and lost one (against Israel and Zimbabwe respectively).

Both Sweden and Norway have played below their expectations for now, and with only two points are in a dangerous situation. However, there are still six rounds to go and both of them are definitely capable of climbing their way back into the lead.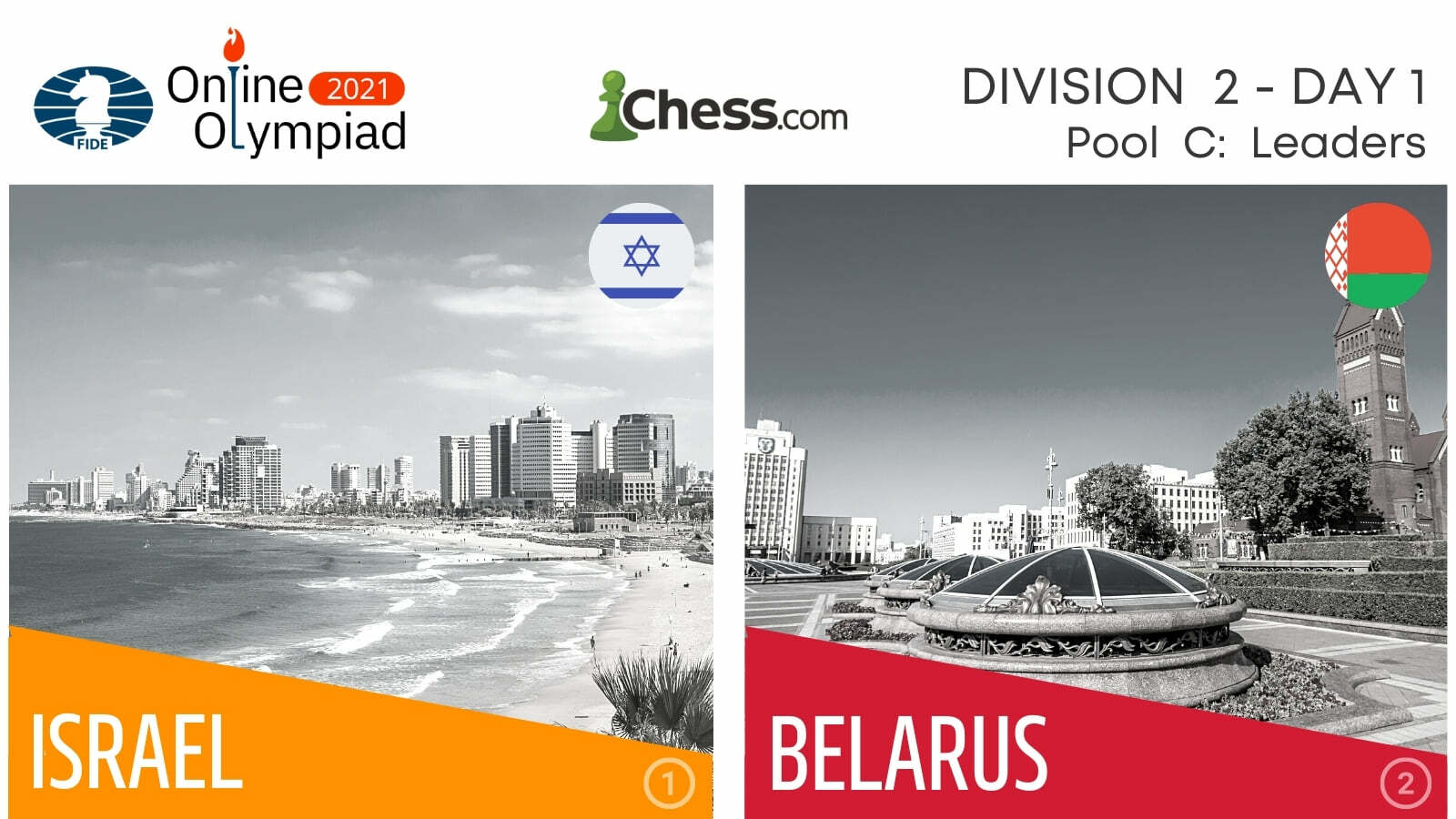 Division 2 - Pool D

Group D brings together most of the South American and African teams, rated 2000 at least and some of them much higher. Two of the favourites, Argentina and Brazil, have already taken the lead after the first three rounds with 6/6.

The strong Argentinean squad, with four OTB Olympic players plus strong titled female contenders, started off by taking down Mexico in a very close match by 3.5-2.5 and then followed it up by defeating Algeria and Morocco very clearly.

Meanwhile Brasil, headed by GM's Alexandr Fier and Felipe El Debs, defeated Angola, Slovenia and Venezuela. These two teams share third and fourth place with 4/6, with two wins and one defeat.

The next diagram is from the Algeria-Venezuela match. White has just played 24.Qc4 and was in for a surpise.



Black took advantage of the pin on the h1-a8 diagonal and played 24…Nxe3+! 25.fxe3 Rxd2+! followed by 26…Qxf3, winning a piece and the game.

Third-division top qualifiers Uruguay haven't yet found their form in this stage of the event but with six rounds still to go – and direct matches with the other contenders – it's very early to turn down their chance to qualify: Mexico is in the exact same situation.



Division 2 - Pool E

The last group to finish – South and Central American countries - might easily be the most evenly-matched at the top. Three teams lead the pack with 6/6: Colombia, Cuba and Ecuador, in that order after tie-breaking with board points.

However, Chile is just behind on 5/6, having only conceded a draw against Jamaica. On paper, it would be a big surprise if Colombia (with GM David Arenas and Andres Gallego) and Cuba (GM Carlos Albornoz and Yasser Quesada are their top boards) missed qualification for the top division, but the third spot is totally open.

Chile, Paraguay Bolivia and Costa Rica could easily close the gap and overtake Ecuador on Day 2 if they are fortunate on the board. In fact, Colombia-Ecuador and Paraguay-Bolivia are fourth-round match-ups that shouldn't be missed by South American fans tomorrow!



Pairings of the rounds, live games, PGN files and other useful information can be found on the FIDE Online Olympiad website. Please note that all results and standings remain provisional until the fair play panel submit its daily report.

The games can be followed online on www.chess.com (Events), presented by Wouter Bik. The commentators for Division Two include GM Anna Muzychuk, GM Irina Krush and WGM Keti Tsatsalashvili and other invited guests. Commentary can also be followed on FIDE's own Youtube channel.

-------------------------------------------------------------------

About the tournament:

Scheduled to take place from August 20th to September 15th, the 2021 FIDE Online Olympiad is a national teams event in which all federations affiliated to FIDE have the right to participate. Team's consist of six players with a minimum of three female players and two junior players.

Played online on Chess.com, the event features two main stages: the "Divisions stage", and the Play-offs stage. All games are played with a 15 minutes + 5 seconds increment per move time control. The full schedule can be consulted here.



Organisers:

International Chess Federation (FIDE)

Chess.com as the hosting platform




Partners supporting the 2021 FIDE Online Olympiad:

the Shenzhen Longgang District Culture, Radio, Television, Tourism and Sports Bureau

the Shenzhen MSU-BIT University

Shenzhen Chess Academy

Shenzhen Pengcheng Chess Club

Shenzhen Longgang District People's Government

the Shenzhen Municipal Bureau of Culture, Radio, Television, Tourism and Sports