Rounds four through six of the Division 2 Online Olympiad were disputed today. We are currently half way through the event and emotions are running high.

Practically all of the pools in this Division are very closely fought and many of them will be decided tomorrow in last-round match-ups. The first three teams qualify directly to the Top Division where they will join the twenty-five best teams of the world, seeded directly into Stage Four of the tournament.

Division 2 - Pool A

Clearly, this group will not be decided until tomorrow, after the final three rounds have been played. Although after today's games Indonesia (11/12) is still in the lead, only one match point separates them from еру second–placed Philippines (10/12).

Although they dropped a point against Bangladesh (3-3), Indonesia defeated the Philippines in round five by a clear 4.5-1.5 and, barring something very unfortunate happening tomorrow, should qualify for the top division.

The top scorer in this group is Indonesia's board three, IM Sukandar Irine Kharisma, with 5.5/6. In the following diagram, Sukandar's advanced passed pawn on c2 should be the decisive factor. However, her precise play was admirable.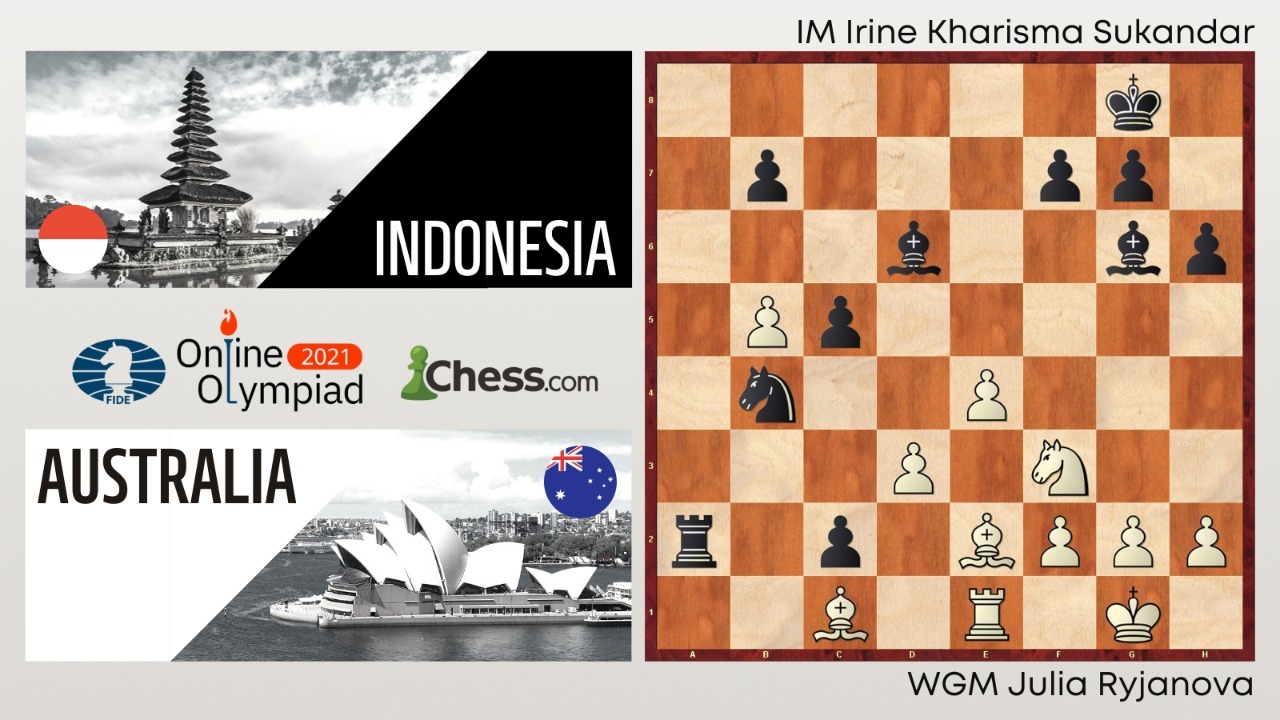 Her first move was 32…Bh5! to exchange the knight on f3. After 33.Kf1 Bxf3 34.gxf3 Be5! the other bishop occupies the square controlled by the exchanged knight. Now 35.Kg2 Ra1! 36.Kf1 Bc3 forced resignation. White has been left with no space at all.

The oldest player record was broken today: 77-year-old WIM Rani Hamid, playing for Bangladesh, debuted today in round four against Chelsie Monica Ignesias Sihite from Team Indonesia. Hamid has won three British Women's Championships and twenty (!) Bangladeshi Women's Championships.

Right behind, in third place, Olympiad partners Shenzhen China (9/12) had a great day, overtaking Australia (8/12), who have dropped to fourth place. As mentioned yesterday, today's pairings were very favourable for them and they won all three matches clearly, including a 6-0 against Ireland.

With only one point separating these four teams, tomorrow's Philippines-Shenzhen and Australia –Shenzhen match-ups will decide which teams qualify along with Indonesia.

Two Shenzhen China players are also on 5.5/6: GM Zeng Chongsheng and WFM Li Xinyu. As a curiosity, Shenzhen China and Chinese Tapei are the only two teams of the pool using their six main players (no reserves).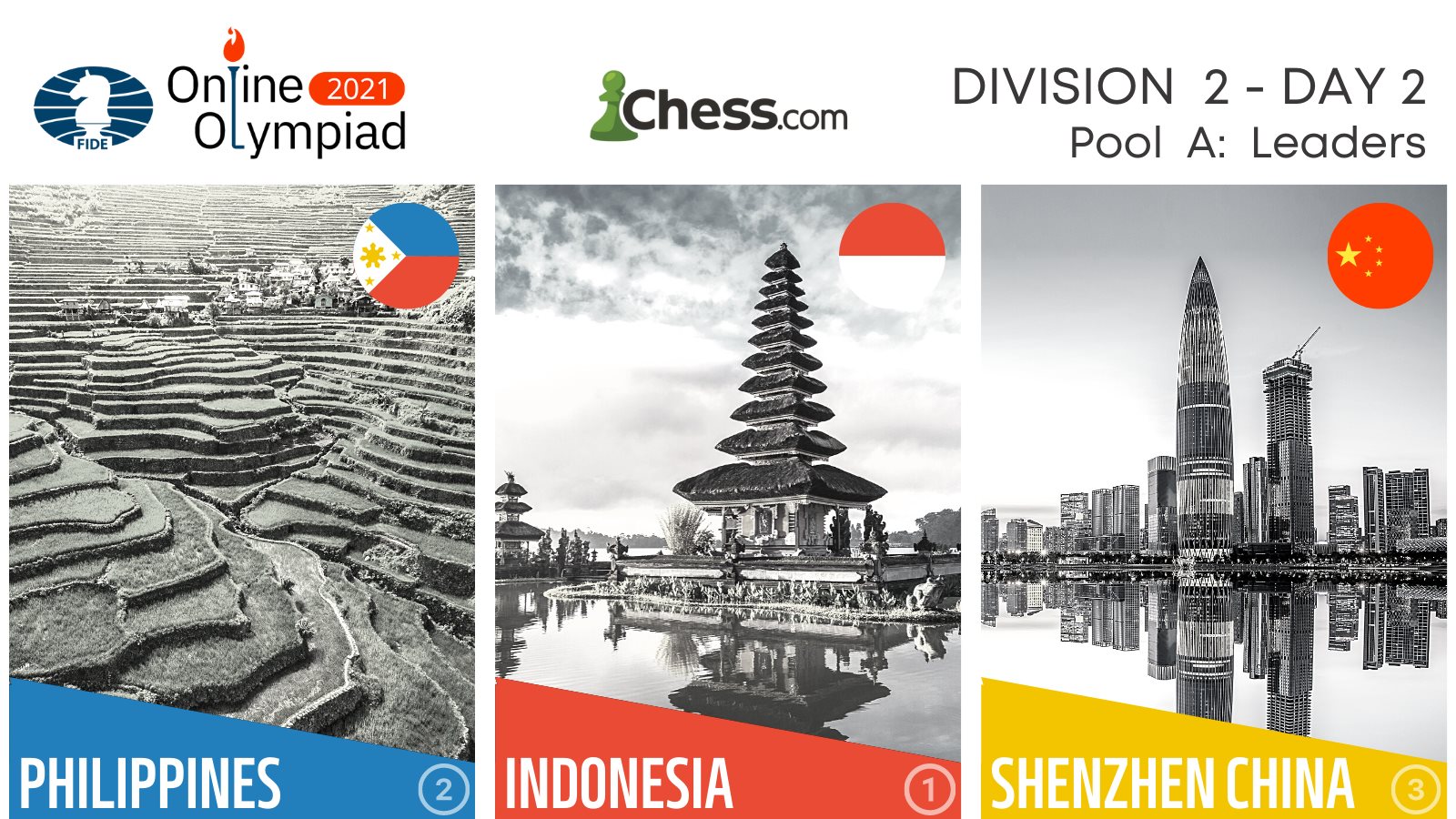 Division 2 - Pool B

As predicted, Italy made a comeback this afternoon and scored 5/6, completing a three-way tie for first place with Latvia and Uzbekistan, all on 9/12. Latvia has 2.5 extra board points, which for the moment gives them the lead on tiebreak.

However, Moldova (8/12) and Estonia (7/12) are both in striking distance and tomorrow's last three rounds feature several direct encounters between these five teams. With six match points still to be played for, anything can happen.

Surprise contender Uzbekistan – their 1735 is the lowest medium rating of the ten - has slightly better pairings (they face two of the teams at the bottom of the table), but in any case the last round match between Latvia and Italy will most likely decide two of the qualifying spots, and maybe even the winner of the group.

The next diagram comes from the round six match between Uzbekistan and Latvia.



White played 33.Re6! sacrificing a rook for the attack. After 33…fxe6 34.Rxe6 Black should have played 34…Ra5 35.Rxd6 Rxd6 36.Ng3 and White is better, but instead played 34…Kg7? and White found the killer move 35.Ng3! heading for h5 with an unstoppable attack.

WGM Laura Rogule is performing unbelievably on board three for Latvia, and with 6/6 is the top scorer in the pool.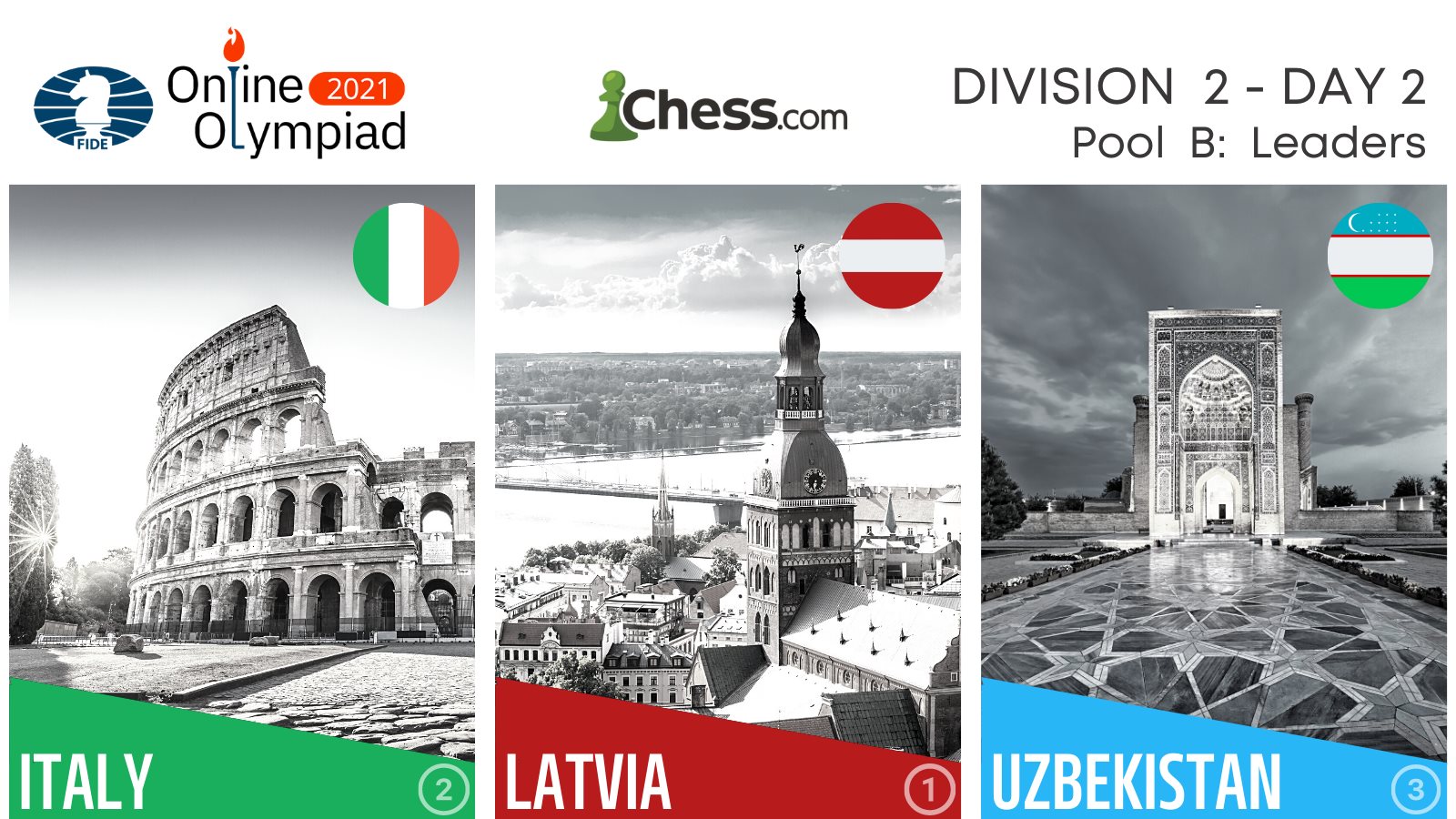 Division 2 - Pool C

Two teams are clearly ahead of the rest in this group: Belarus (12/12) and Israel (11/12). Belarus crushed through all three of their opponent's today with a 4.5 minimum score. Israel basically did the same but dropped an unfortunate 3-3 tie against 4th placed Sri Lanka – a match in which they were more than 300 rating points favourites on every board.

They will face each other tomorrow in the last round to decide the winner but it seems highly unlikely that either of the two will miss qualification. The third spot should be for Sweden (7/12) or Sri Lanka (6/12) although both Portugal and Albania (both on 5/12) still have an outside chance to qualify.

One of the anecdotes of the day, reported by principal arbiter Alex Holowczak, occurred precisely in the match between Sweden and Scotland.

Sweden's GM Ferdinand Hellers was playing Scotland's GM Jacob Aagaard. Unfortunately, Ferdinand had connection challenges, and had lost almost half his time.



Therefore, Jacob sportingly offered a draw, which was accepted. Something that would probably never happen in an OTB Chess Olympiad!

Montenegro and Scotland, who were sharing 4th place after the first three rounds, both lost their three matches today and are now out of the running: they have dropped down to 7th-9th place in the standings.

Top scorer for Belarus is WFM Yana Ilyuchyk, who has won all of her games on board four (5/5). Also doing very well on board two for Sweden is GM Pia Cramling (5/6). Finally, Israel's first two boards GM's Tamir Nabaty and Ilia Smirin are both on 4/4 with strong performances.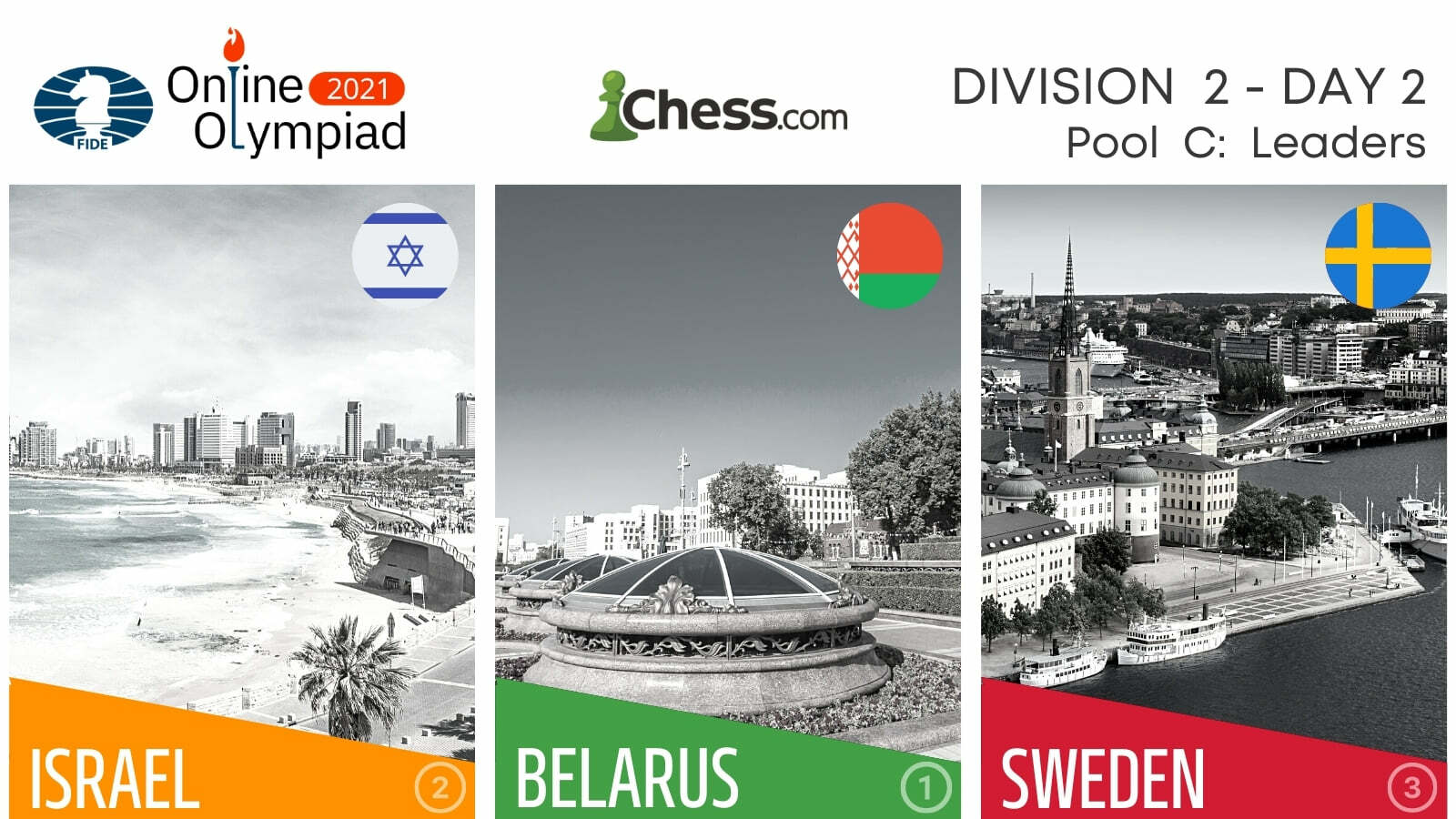 Division 2 - Pool D

Argentina is on a roll! They lead the group with a perfect 100% score (12/12) after defeating South Africa and Uruguay, as well as their neighbours Brazil by a clear 5-1 in the fifth round.

Due to that defeat and a 3-3 tie against Mexico, Brazil (9/12) has dropped to third place in the group and has been overtaken by Slovenia (9/12), who crushed their opposition today.

However, Venezuela (8/12) is just behind these three teams and still has to face Argentina tomorrow. Also, Slovenia will play against Argentina in the first of tomorrow's three rounds.

In fact, Brazil has the most favourable pairings: their last three opponents are Uruguay (8th), South Africa (9th) and Morocco (10th).

With 6/6, Argentinean WFM Candela Be Francisco Guecamburu is the top scorer of her team and the group. WIM Urh Zala from Slovenia is also performing above expectation with 5.5/6 on board five.



Division 2 - Pool E

Colombia (12/12) pulled away from the pack today after winning their three matches, including a very important 4-2 score against Ecuador, who have now dropped down to 5th place with only 8/12.

Cuba maintains second place with 10/12 – two wins and a loss against Ecuador – while Paraguay and Chile share third place with 9/12.

Tomorrow's eighth-round match between Colombia and Cuba will be decisive for the winner of the pool but can even prove to be very important for Cuba's options of qualifying – they also have to face Paraguay and Chile (who also have to play against each other!)

Even Ecuador (8/12) could overtake these two teams if they play well – they also have to face Paraguay! All up for grabs in this group.

The top scorer at the moment is WIM Yaniela Forgas Moreno, on 5/5 for Cuba, performing very well on board four.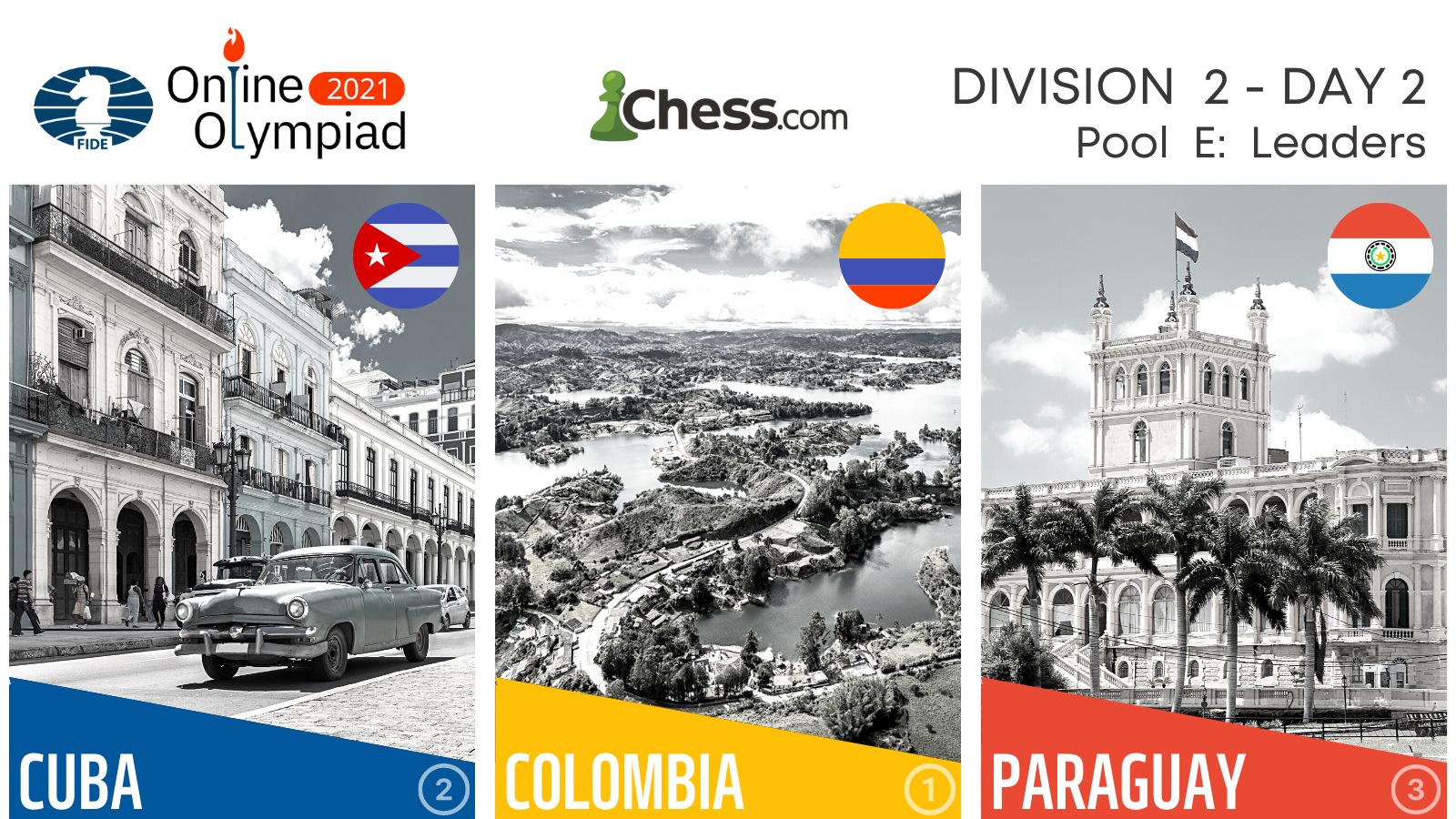 Division 2 standings after six rounds

Pairings of the rounds, live games, PGN files and other useful information can be found on the FIDE Online Olympiad website. Please note that all results and standings remain provisional until the fair play panel submit its daily report.

The games can be followed online on www.chess.com (Events), presented by Wouter Bik. The commentators for Division Two include GM Anna Muzychuk, GM Irina Krush and WGM Keti Tsatsalashvili and other invited guests. Commentary can also be followed on FIDE's own Youtube channel.

--------------------------------------------------------

About the tournament:

Scheduled to take place from August 20th to September 15th, the 2021 FIDE Online Olympiad is a national teams event in which all federations affiliated to FIDE have the right to participate. Team's consist of six players with a minimum of three female players and two junior players.

Played online on Chess.com, the event features two main stages: the "Divisions stage", and the Play-offs stage. All games are played with a 15 minutes + 5 seconds increment per move time control. The full schedule can be consulted here.




Organisers:

International Chess Federation (FIDE)

Chess.com as the hosting platform




Partners supporting the 2021 FIDE Online Olympiad:

the Shenzhen Longgang District Culture, Radio, Television, Tourism and Sports Bureau

the Shenzhen MSU-BIT University

Shenzhen Chess Academy

Shenzhen Pengcheng Chess Club

Shenzhen Longgang District People's Government

the Shenzhen Municipal Bureau of Culture, Radio, Television, Tourism and Sports