The 2021 FIDE Online Chess Olympiad kicks off tomorrow, August 20, with Division 4 and will last until September 15.

155 registered teams are ranked according to their Federation Performance Ranking (FPR) based on their results in the open and women's section of the 2018 FIDE Olympiad in Batumi and in the 2020 FIDE Online Olympiad. Based on their rankings, teams are divided into four divisions, from Division 4 to Top Division.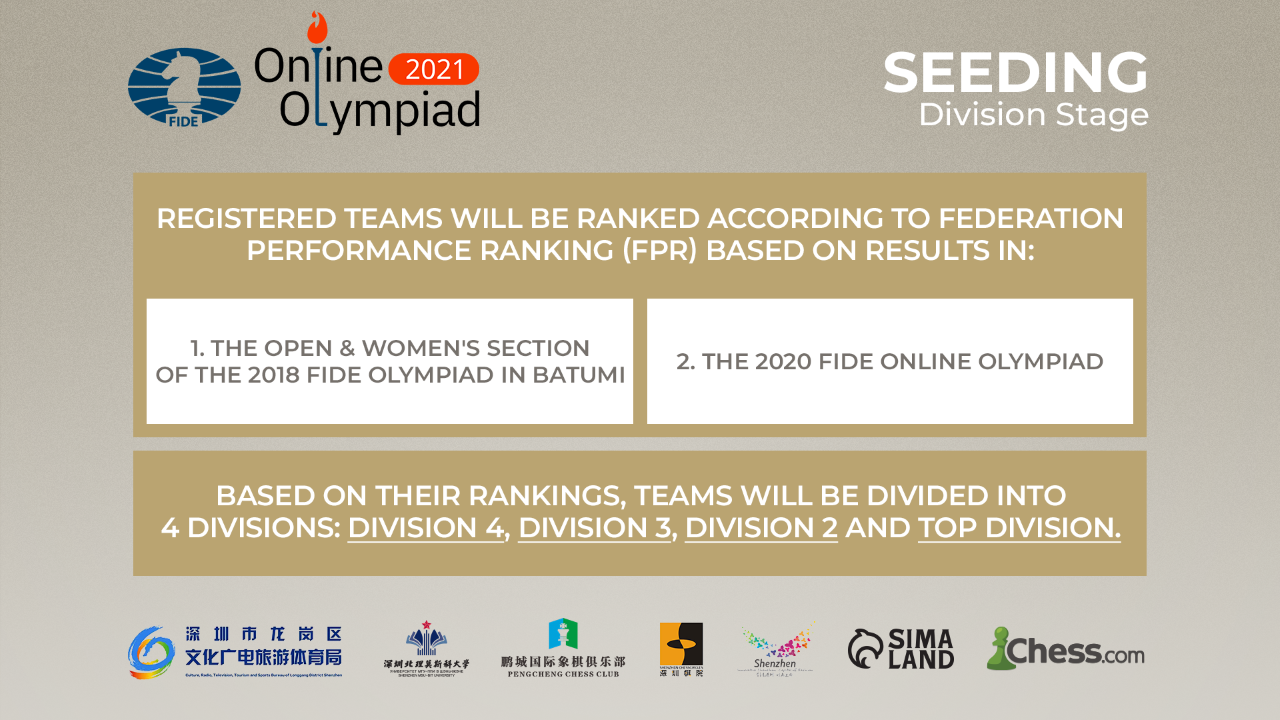 Like the regular, biannual event, the Online Olympiad is a competition for teams that represent their national chess federations. All federations affiliated to FIDE have the right to participate. In the online version, however, each team consists of 6 players and must include at least two women, one player U20 and one girl U20.

60 teams, sectioned into 5 pools of 12, will battle in Division 4. Each pool will play a round-robin of eleven rounds, with the top three teams from each pool (15 total) qualifying for Division 3.



This will be followed by Division 3 (50 teams), Division 2 (50 teams), and finally Division 1 (40 teams), the winners of which will be joining the seeded teams for the play-off stage.



The second edition of the Online Olympiad is supported and sponsoredby the Shenzhen authorities, which include the Shenzhen Longgang District Culture and Sports Bureau, the Shenzhen MSU-BIT University, Shenzhen Chess Academy, Shenzhen Pengcheng Chess Club. Simaland, the Russian wholesale online store and proud sponsor of the Candidates tournament 2020-21, is also be a partner for the Online Olympiad 2021.

Find more about the teams and their players here.
Crosstable of Division 4, team composition, pairings and results can also be found here.